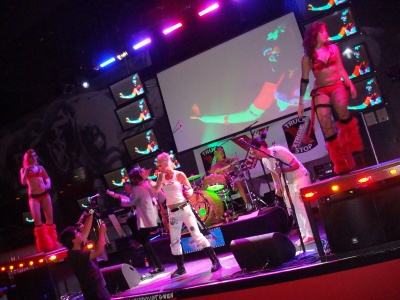 THE GWEN IN DOUBT PROJECT WAS FORMED AS A TRIBUTE TO GWEN STEFANI AND NO DOUBT IN THE SUMMER OF 2003.  BASED OUT OF RENO, NEVADA.   THE PROJECT ITSELF IS FRESH AND EXCITING HOWEVER THE MEMBERS HAVE EXTENSIVE EXPERIENCE AND CREDITS AS ENTERTAINERS AND PERFORMERS.

TAMARA MCLEAN AKA "TAMMY TAM TAM"
LEAD VOCALIST/DANCER/SONGWRITER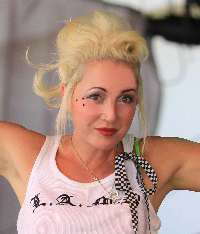 TAMMY STARTED PERFORMING WITH RADIO RAGE, A BAND BASED OUT OF LOS ANGELES, PLAYING SHOWS AT PLACES FROM DISNEYLAND TO LAS VEGAS.  WHEN NOT PERFORMING WITH GWEN IN DOUBT, TAMMY PROVIDES LEAD VOCALS AS A MEMBER OF THE BAND STEEL BREEZE.  STEEL BREEZE BECAME FAMOUS FOR THE HIT SONG  "YOU DON'T WANT ME ANYMORE" BUT REMAINS CURRENT AND RELEVANT WITH HIGH ENERGY PERFORMANCES OF TODAY'S HITS AS WELL AS FAVORITES FROM THE 80's AND 90's. 
STEEL BREEZE PERFORMS AT VARIOUS VENUES AND EVENTS ALL OVER THE UNITED STATES, INCLUDING CORPORATE EVENTS, ROCK CLUBS, FAIRS, CASINOS, AND WEDDINGS. 
TAMMY'S SECOND SOLO CD, BRAIN TAMAGE, WAS RELEASED IN 2013 AND IS AVAILABLE ON iTUNES OR AT CDBABY.COM. VISIT WWW.TAMMYTAMTAM.COM FOR MORE INFORMATION.

SHE LOOKS LIKE GWEN, SHE SOUNDS LIKE GWEN, SHE MOVES LIKE GWEN.  SHE WAS DESTINED TO DO THE ULTIMATE TRIBUTE TO GWEN STEFANI/NO DOUBT.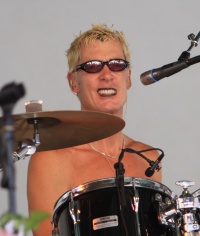 SPIKE
DRUMMER, LEAD AND BACK UP  VOCALS, COMIC

ONE OF THE FEATURES TO THE GWEN IN DOUBT SHOW IS THE WILD STAGE ANTICS OF  SPIKE.  SPIKE HAS BUILT A REPUTATION AS ONE OF THE PREMIER PERFORMERS IN ALL OF NEVADA BRINGING A SENSATIONAL COMBINATION OF VOCALS, DRUMS, MC AND COMIC RELIEF TO THE STAGE.  IN ADDITION, SPIKE HAS COLLABORATED TO WRITE AND RECORD SONGS WITH MANY INCLUDING  SAMMY HAGAR AND MEMBERS OF THE BAND KANSAS.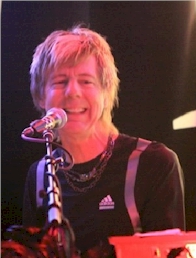 TOMMY MCLEAN AKA  "T-LARGE"
KEYBOARDS AND BACK UP VOCALS


THE MUSICAL ANCHOR IN THE GWEN IN DOUBT SHOW.  "T-LARGE" DEVELOPED HIS EXCEPTIONAL SKILLS AND MASTERY OF KEYBOARDS IN THE L.A. CLUB SCENE FOR 15 YEARS.  TOMMY HAS WORKED WITH NUMEROUS BANDS AND TOURED ALL PARTS OF THE UNITED STATES, AND CANADA.  HE IS THE PERFECT COMPLIMENT TO THE GWEN IN DOUBT SOUND!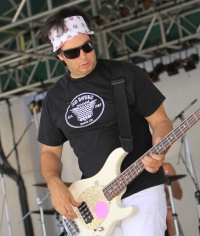 "BAGMAN"
BASS GUITAR AND BACK UP VOCALS

THIS POPULAR NEWCOMER IS ACTUALLY A VETERAN OF ROCK'S FREQUENT FLYER CLUB.  WITH NUMEROUS RECORDING CREDITS, AS WELL AS MANY TELEVISION AND RADIO APPEARANCES, THIS BASSIST HAS BEEN HEARD AROUND THE WORLD, LITERALLY!  WITH HIS SOLID SOUND AND ENERGETIC PERSONALITY, IT IS EASY TO SEE WHY "BAGMAN" IS A FAVORITE AT CLUBS, CONCERTS, AND FESTIVALS.  "BAGMAN" WANTS TO MEET ALL OF YOU AT THE NEXT SHOW.  COME OUT AND HAVE SOME FUN!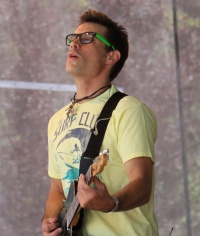 DAN BAUER
LEAD GUITAR, LEAD AND BACK UP VOCALS 

DAN TRULY BELIEVES THAT EACH ONE OF US HAS A MISSION ON EARTH,  SOMETHING THAT WE WERE BORN TO DO THAT  WE DO WELL AND MAKES US HAPPY.  DAN WAS BORN TO SING AND PERFORM. HIS DIVERSE AND TECHNICAL SKILLS GIVE THE SHOW A GREAT TEXTURE.  HIS EXPERIENCE ON THE MUSIC SCENE AS WELL AS HIS CHARMING PERSONALITY COMPLETES THE CIRCLE OF THIS HIGH ENERGY SHOW.